---
The Bern-based Swiss artist Frantiček Klossner is a creator of video art, installations, performance, photography, drawings, and visual poetry. While his cross-disciplinary oeuvre is steeped in existential questions, the focus of his inquiry is on our contemporary self-image as humans. The human body in his video installations and performative sculptures, and even in his drawings and photographic works, stands for processes of psychological individuation and social interdependency. Klossner addresses political and social issues, but does so in a visual language of extraordinary poetic intensity. So striking is the aesthetic of his works that they engage his audiences in direct dialogue. The vehemence of his pictorial worlds is sustained by the sensuousness of his materials. Thus, as if by subterfuge, viewers of his works find themselves questioning their inner images and reviewing their own thinking.
Museums and Public Art Collections
Works by Frantiček Klossner are represented in numerous public art collections: Swiss National Museum, Kunsthaus Zürich, Reinking Collection Hamburg, Moses Mendelssohn Foundation Berlin, Federal Art Collection of the Swiss Confederation, Carola and Günther Ketterer-Ertle Art Collection, Musée d'art et d'histoire Fribourg MAHF, Prints and Drawings Collection of the Swiss National Library, Museum of Fine Arts Berne, Neuer Berliner Kunstverein, Ursula Blickle Videoarchiv, Österreichische Galerie Belvedere Wien, Center for Art and Media ZKM Karlsruhe, Tomarkin Collection Berlin, Museo de Arte Moderno de Buenos Aires MAMBA Argentina, Museum of Fine Arts Solothurn, Art Collection of the Canton of Bern, Art collection of the city of Zofingen, Arts Center Pasquart Biel-Bienne, Mobiliar Art Collection, Banque Bonhôte Neuchâtel Art Collection, Swiss Institute in Rome
Awards / Honors
2018 - Network Culture Honorary Award
2017 - Winner of the competition "digital culture", Cultural Department Bern
2009 - Art Position, Audience Award, Canton Vaud
2009 - Media Art Award of the Valiant Bank
2007 - Kulturfonds, Federal Office of Culture
1999 - Nomination for the Böttcherstrasse Award Bremen
1997 - Work grant of the UBS Cultural Foundation
1997 - Video Award of the states of Thuringia and Rhineland-Palatinate
1996 - Member of the Swiss Institute in Rome
1992 - Aeschlimann-Corti Award 
1991 - New York Studio Grant
Education and Training
Frantiček Klossner trained as an artist at the F+F School of Art and Design in Zurich (1985–1989), among whose teachers were the artists Hansjörg Mattmüller, Hermann Bohmert, Norbert Klassen, Vollrad Kutscher, Valie Export, Peter Weibel, and the philosopher Gerhard J. Lischka, and among whose guest lecturers were Jean Baudrillard, Paul Virilio, and Vilém Flusser. On graduating, he won a City of Bern art scholarship, thanks to which he was able to move into a studio in the East Village in New York City and there focus on video art, performance, and installations. In 1995 he became a member of the Swiss Institute in Rome. After the two-year studio stay at the Institute, he settled in the eternal city, where he remained until 2000. On returning to Switzerland, he headed the exhibition project Identité mobile at the Murten arteplage of the Swiss National Exhibition, Expo.02.
Exhibitions
Since 1990, Klossner's art has featured regularly in international exhibitions and media art festivals. Among the institutions to stage solo exhibitions of his work are the Kunsthaus Grenchen, CH (2001), Centro d'Arte Contemporanea, Bellinzona, CH (2002), Museo de Arte Moderno de Buenos Aires MAMBA, ARG (2004), Galeria de Arte Universal, Santiago de Cuba, CUB (2005), Centro de Expresiones Contemporáneas, Rosario, ARG (2007), Kunstmuseum Solothurn, CH (2008), Kunsthaus Interlaken, CH (2013), Kunsthalle Wil, CH (2014), and Kunstverein Ruhr in Essen, NRW, D (2015).
Teaching
From 1993 to 2001, he co-founded the Department of New Media at the F+F School of Experimental Design in Zurich and taught performance and video art. After the Swiss Expo.02 he was invited to lecture in media art at the Fachhochschule Nordwestschweiz FHNW and in performance art at the École cantonale d'art du Valais ECAV. In 2006 he took on a teaching position at the Bern University of the Arts HKB, where he has since taught at the Institute for Transdisciplinary Art and Research.
Frantiček Klossner describes his series with frozen portraits and bodies as an "infinite performance." The performative concept is not only laid out for the duration of an exhibition; he applied it as early as in his first "freezings" (1990) and continues to do so to this day, each time in a new context, in numerous installative or media variations. Each new staging is a temporary process in which the viewer involuntarily participates. Hence it is not just about the coexistence of images layered one over the other or about the portrait made of ice that slowly melts, but also, and above all, about interpenetration and overlaying in a conceptual, aesthetic sense. The elements placed in the exhibition space depend on each other and in their entirety are in a position stimulate thoughts, feelings, and memories whose coexistence is already art-specific. The rhythmically moving video image and the ice head prompt meditating on time that is trickling away, one's own lifetime, and impermanence. The fact that the material used to create the head is frozen water, which melts over time, makes it an ephemeral "human image" that visibly changes over time and ultimately dissolves. This "always-becoming-less" of the solid, icy substance and the gradual dripping away of the melt water thus belong to Klossner's understanding of the work and his concept. A temporary sculpture, so to speak, an image undergoing permanent dissolution that is capable of prompting multiple, by all means contradictory associations in the viewer. In actuality, what is occurring here is a completely normal physical process for the purpose of demonstrating the transformation from a solid into a liquid aggregate state. Yet Klossner is not concerned with a scientific test arrangement but with a work of art and thus a polysemous symbolic placement and with the conscious reactivation of millennia-old concepts of time. The artist is furthermore concerned with the palpable generation of a concept of humankind that embodies time, as it were, and thus in terms of its theme is also concerned with the existential question as to an individual's "internal time" and "external time." (Text: Peter Friese)
---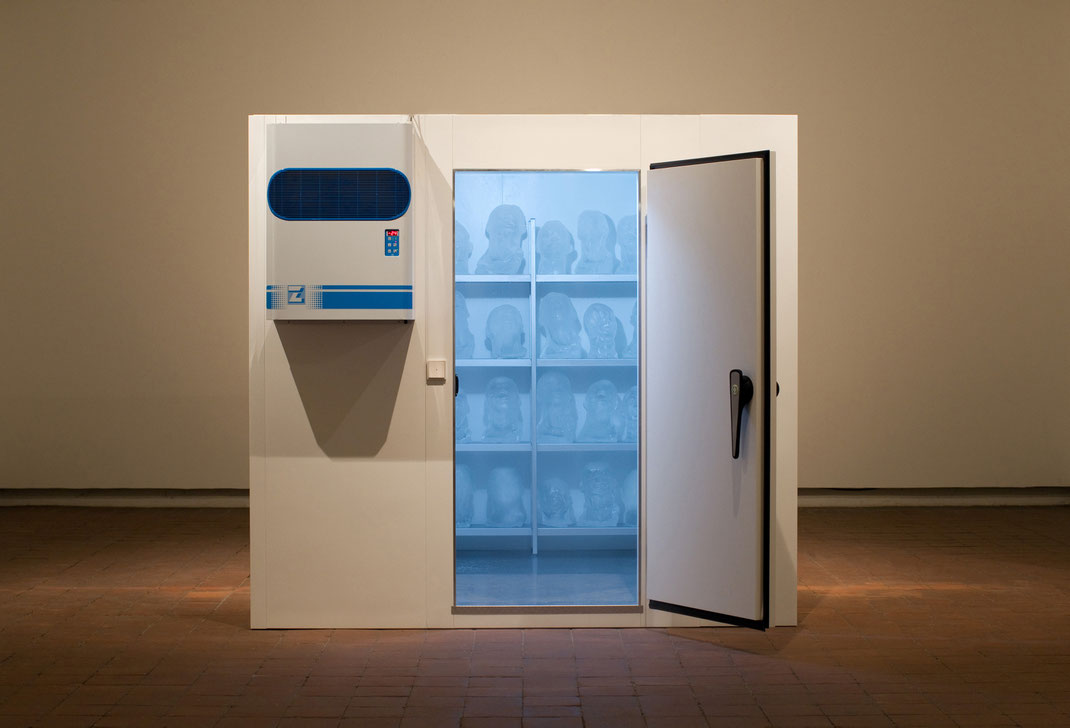 ---
In the pale light of an incandescent lamp, Franticek Klossner stores a multitude of frozen self-portraits. The whimsical collection seems like a clinical experiment. The lucid heads are lined up frontally on metal shelves. Each head is shaped differently by the freezing process: Burst open, torn, split, or a perfect likeness, they reflect the full range of deformation and shape-shifting. Confronted with these "frozen selves," we involuntarily think of Richard David Precht's bestseller "Who am I - and if so, how many?" The vulnerable physicality of the stored "I's", becomes a symbol of human conditions. In the cold of the cold room, the processes of our perception intensify: with every breath the cold penetrates us! We breathe in the work ... and leave when exhaling, by the warming of our breath, a constantly growing hoarfrost on the frozen heads. Like a fine fur, the breath of the audience lays on the work of the artist. (Kunsthalle Osnabrück, catalog text, 2011)
---
---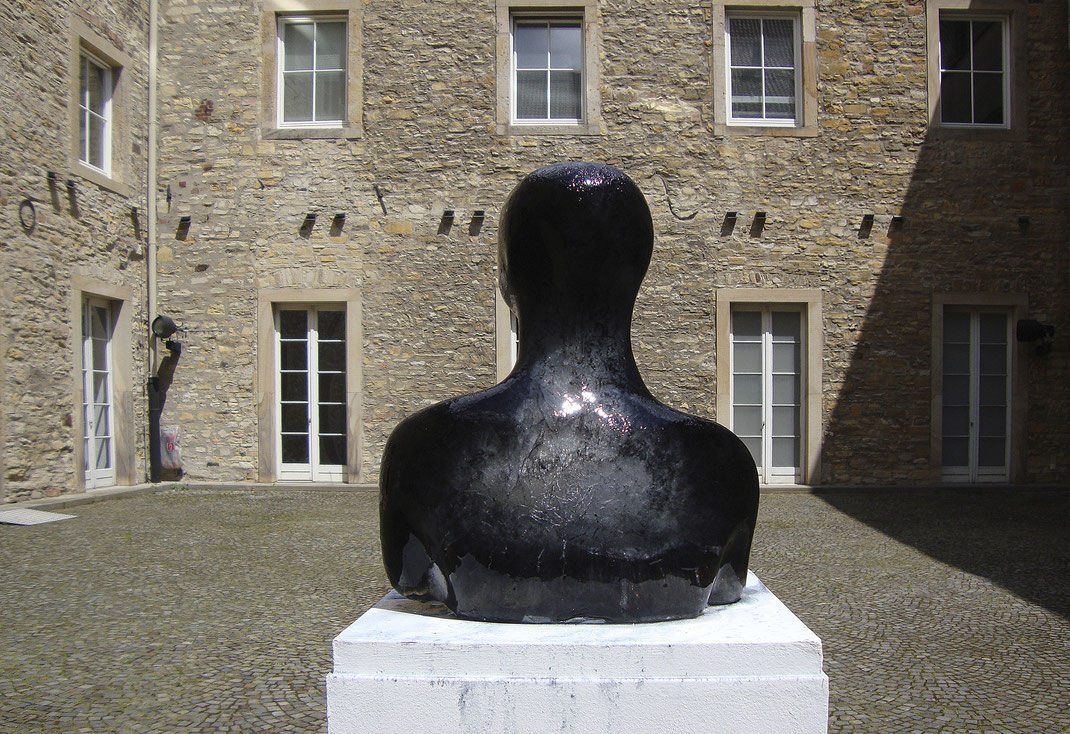 ---
---
Frantiček's artistic work is permeated with existential questions. In his videos, installations, and drawings, the human body functions as a representative for the processes of psychological individuation and social interdependencies. The video installation «ex vivo - in vitro» addresses the human image of the present in a particularly forceful way. The artist uses large glass balloons filled with water as image carriers for his video projections. The curved volumes distort and stretch the images like convex mirrors. Soaked in liquid, preserved and isolated from each other, we discover naked human bodies and talking heads moving slowly. The scenery is reminiscent of anatomical human specimens, preserved in formalin, as we know them from the collections of medical history museums. But the isolated bodies are very lively and by no means dead. Their activity quickly makes you forget about the comparison to the anatomical preserved specimen. Heads rotate around their own axis like globes. The passing faces become world maps of lives already lived. In enigmatic words, the enclosed spirits speak to themselves and to us. They speak of love and longing, of closeness and distance, of hope and confidence. The poetic presence of the preserved and separated individuals conveys a powerful and very topical image of human aggregate states.
---
---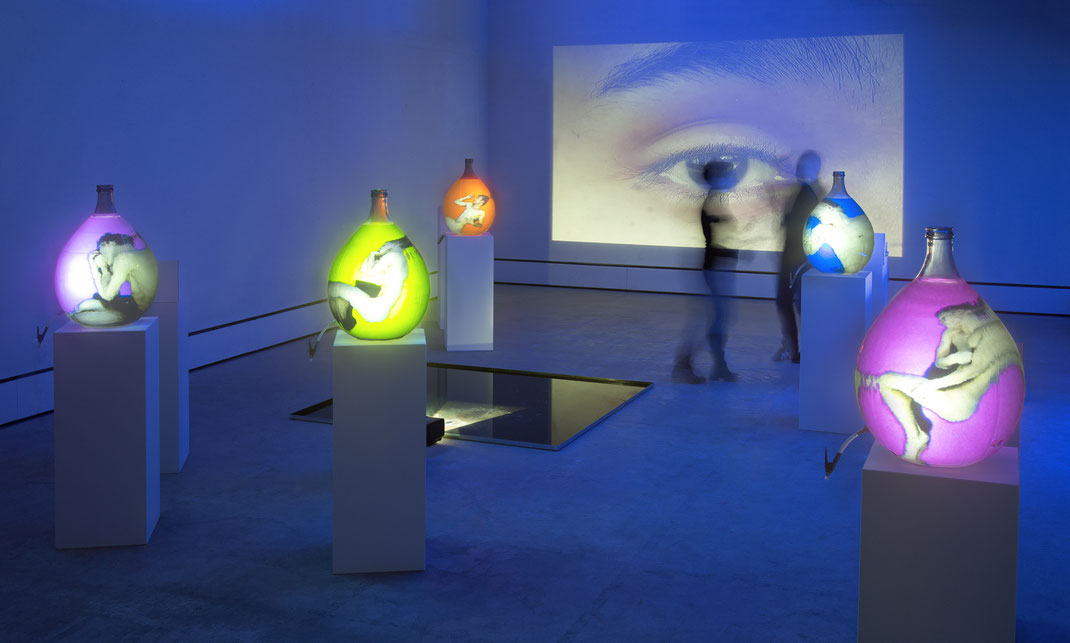 ---
---
---
---
---
A self-portrait of the artist made of ice hangs above a large surface of water that has been placed on the floor of the exhibition space. It is initially an exact one-to-one cast of the artist's head. Just out of cold storage and hung upside down on a metal loop, this impressive body of ice initially becomes covered with a velvety white layer of frost before it gradually begins to melt and drip off due to the ambient temperature. This physical process occurs in what for the viewer is amazing slowness, which in turn demands one's awareness. The waiting time becomes part of the performative concept. The fine white ice crystals ultimately dissolve, and the melting process can be experienced as a permanent rhythmic process within the exhibition.
Image and counterimage
Alternately projected onto the water is video footage of an attentive eye and the image of a naked young man in a fetal curl. A video projector was placed in such a way that these images are reflected from the surface of the water onto the opposite wall of the space and enlarged. The drops of water constantly falling from the melting head, however, produce concentrically pulsating circles on the surface of the water, like individual raindrops on a lake. And because the video projection is a "light image," these waves create multiple light refractions and visual amplitudes within the image mirroring. An impressive, constantly changing situation develops—both on the surface of the water as well as in the actual video, into which the viewer is automatically integrated. It looks as though the viewer's gaze is responded to by the counter-gaze of the large eye, which the curled up body of the naked young man then follows. And all of this is permeated by the dynamically concentric circles and oscillations emanating from the drops of water to ultimately condense into a striking overall image.
---
---
---
---
---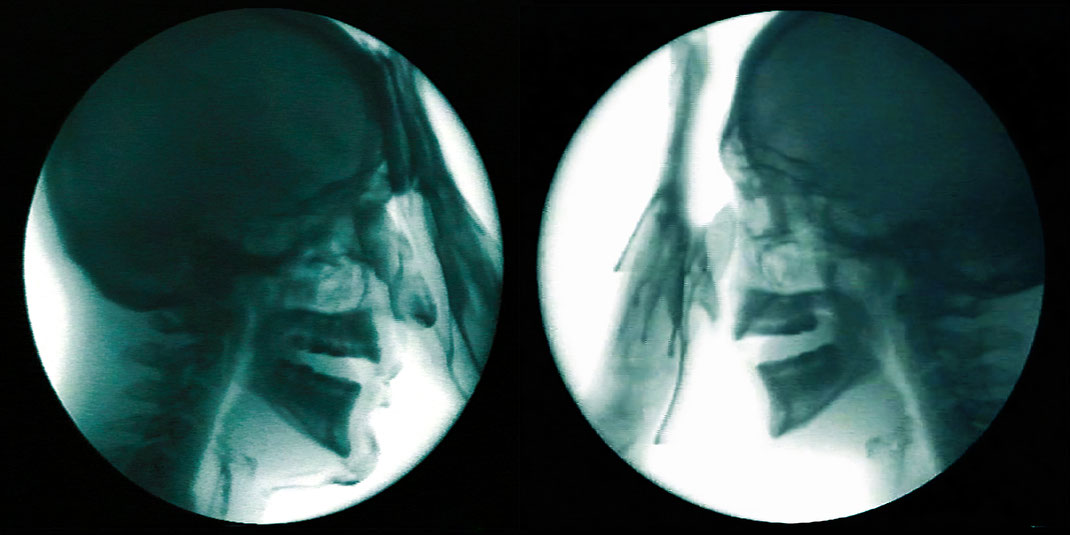 ---
Léonard Cuènoud, Hess Collection, catalog text, 2000: The skeleton of a human skull, moving vividly and looking at us from its bony eye sockets, has a frightening and irritating effect. In the flesh a skull, alive? The unconventional self-portrait in X-ray fluoroscopy is set in the classical-looking form of a medallion, referring to the pictorial characteristics of mourning jewelry from the postwar years. But Frantiček Klossner's video performance is a memento mori full of self-irony and palpable pleasure in artistic experimentation with medical imaging media. The oppressive associations are clearly contrasted by sly mischievousness and black humor. Death seems to want to tell us that life after death will be as sensual and whimsical as our contradictory existence in that time we call the present.
---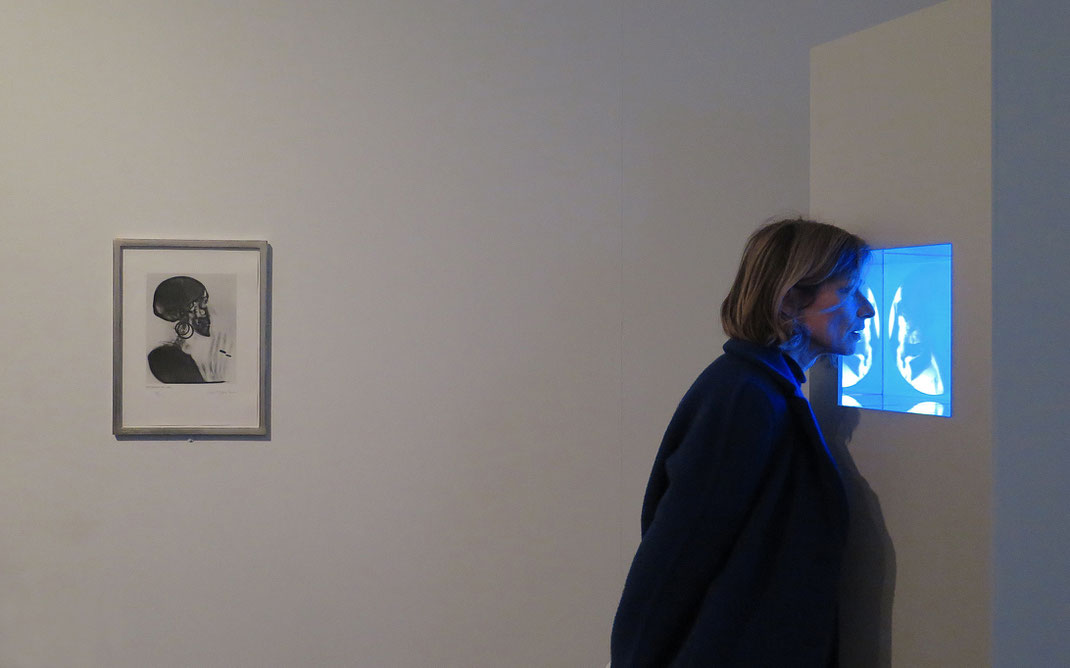 ---
---
The transformations and fragmentations of the body are central aspects in the works of Frantiček Klossner. Since 1989 he has been making life-size "skins" from natural rubber. These are realistic casts of his own body, which he uses to freeze his often exhibited portrait busts made of ice, the "Melting Selves". Over the course of this artistic work process, which has lasted more than 30 years, a large number of "skinnings" have accumulated. These are relics left behind from earlier phases of life and creation, from which man has already escaped and from which the artist has emerged. The traces of the respective stages of work, scratches, cuts, welts and injuries, give each skin an individual appearance. In the case of Frantiček Klossner, the fragments of an artistic career that have been removed from himself and preserved can also be read as ritualized "detachments" in his individuation process as a human being. The "flaying" is a clear physical signal of a psychological and spiritual change. Frantiček Klossner's "flayings" thus enter into a dialogue with powerful images of European cultural history, such as the Greco-Roman myth of Marsyas or the martyrdom of Saint Bartholomew. The recurring shedding of his own skin enables Franticek Klossner to embody the passage of time, to visualize his personal developmental steps as a human being and artist, to materialize his metamorphoses and his life's journey, like a snake that leaves its own skin several times when it has outgrown it.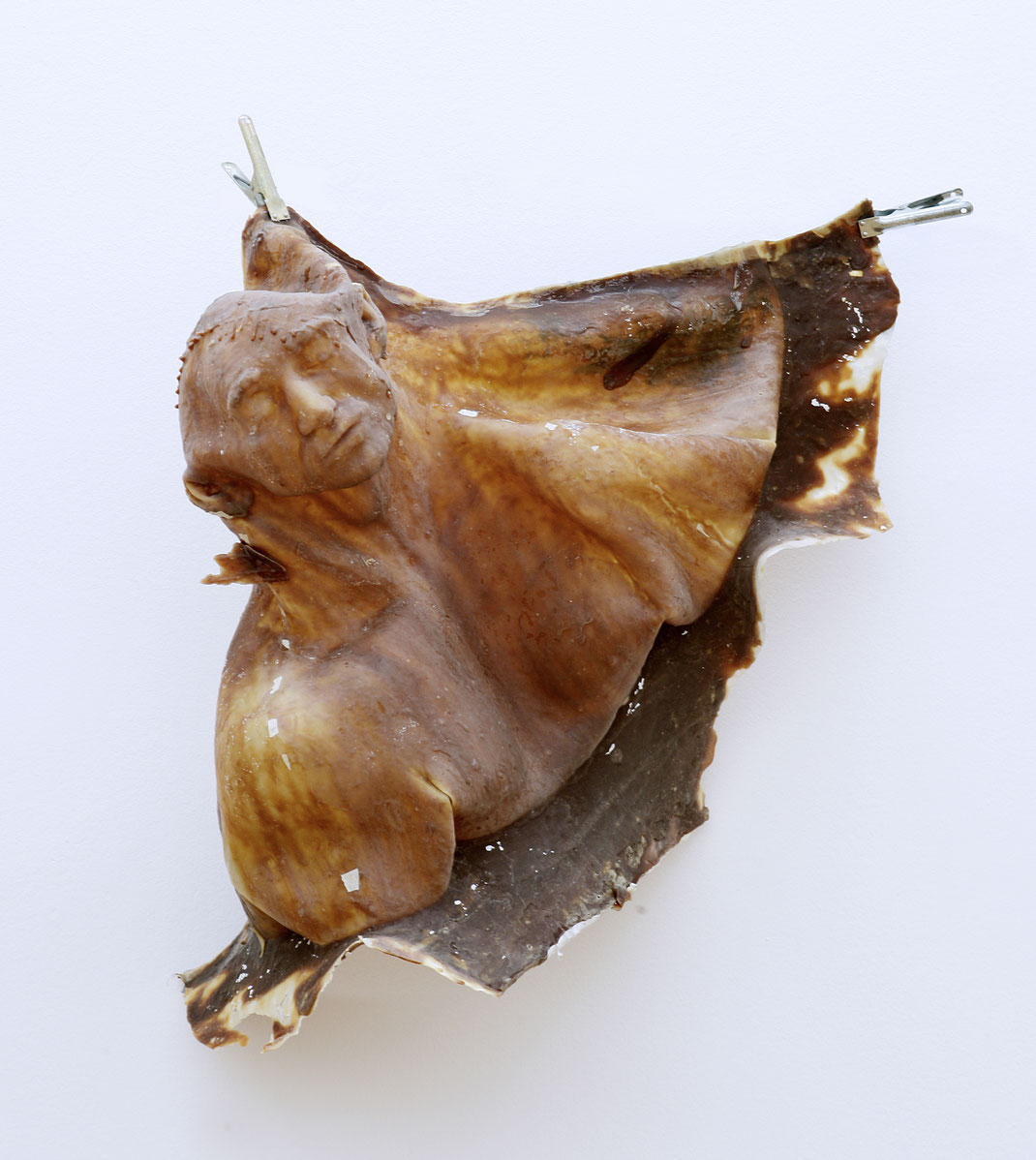 ---
---
---
---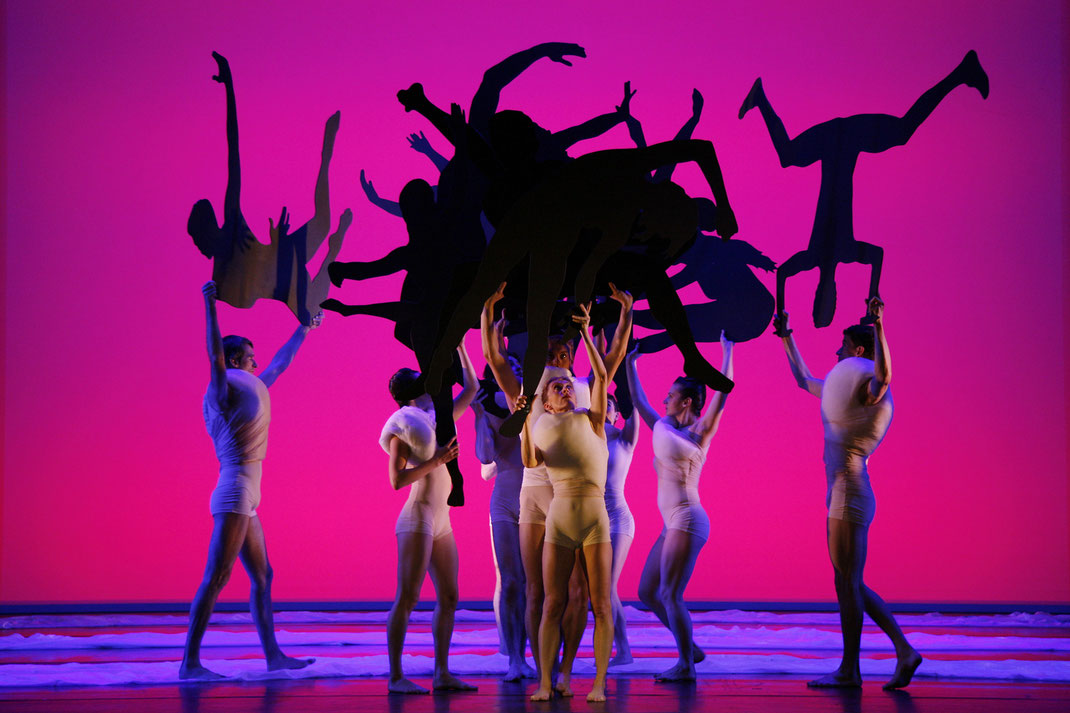 ---